One Vision
Introducing the world's most advanced digital Internet CCTV, access control systems & door entry systems.

Features:

High-resolution digital recording

Remote viewing from anywhere in the world

Playback via the Internet

Compatible with G3 mobile phones

Supports up to 16 cameras

120 FPS, adjustable for recording

Compatible with ADSL (broadband) and LAN

Intelligent motion detection

All recordings incorporate digital watermarking with time and date

Email and phone call alerts

Audio recording

Pan, tilt and zoom camera control

Night and day vision cameras

Five locations can be monitored simultaneously
Digital Internet CCTV
Digital surveillance and security CCTV via the Internet.

High-resolution, digital recording, remote viewing and playback via the Internet of up to 16 cameras.

The DVRPRO system can replace video cassette-based equipment in any existing CCTV system, or be used as the heart of a new CCTV installation. Picture quality, recording rates and functionality are far superior than video cassette-based equipment.

DVRPRO is available in a variety of formats, from a simple four camera version with 30 frames per second to the top of the range 16 camera version with 120 FPS recording. The remote viewing feature allows access to the DVRPRO via the Internet from anywhere in the world, using a PC, pocket PC, PDA or any G3 mobile phone.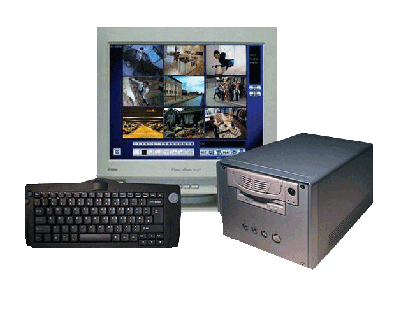 Once connected the remote PC can view and control live images of the cameras and play-back recordings.

DVRPRO is completely flexible when it comes to viewing your cameras.
Each camera can be viewed individually or as a 4-, 6-, 8-, 10-, or
16-camera split screen.
You can record up to 16 cameras at the same time without interruption while viewing live images. All recordings are made on a removable hard drive and watermarked with the camera's name, time and date. You can search and retrieve a specific time and date on the hard drive in seconds. This conforms with the current Data Protection Act.
In order to increase the recording time, the system can be set up to record only when movement occurs. This is called Intelligent Motion Detection. Once movement has been detected, the IMD will record the activation to hard disk and send you an alert in the form of calling up to three different phones and/or sending you an e-mail with images of the detection as an attachment.
DVRPRO can also be connected to a central monitoring station, sound an alarm or trigger additional devices such as lights or burglar alarms.

DVRPRO also supports audio recording from the cameras. The DVRPRO at 30 FPS has one audio input and the 120 FPS has four audio inputs for recording sound digitally onto the hard drive from the cameras.

The system supports the protocols for Pan Tilt and Zoom cameras. These can be controlled either locally or remotely from your PC.

DVRPRO also incorporates a multilevel password structure, which allows you to set up different levels of access for different users.